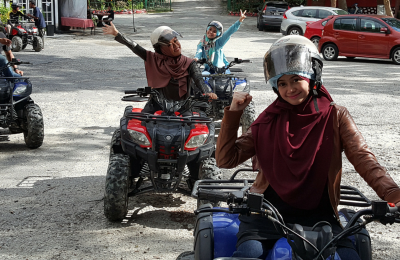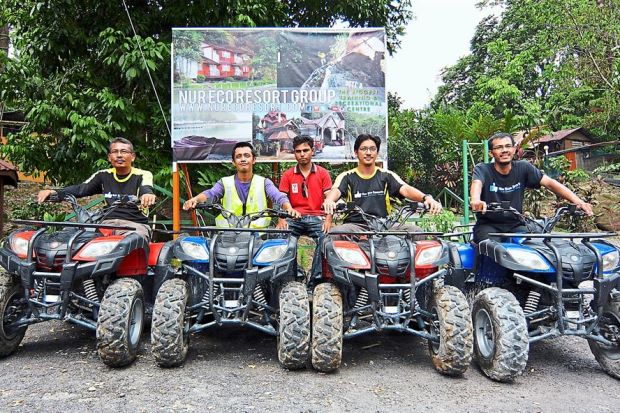 RULE & REGULATION
PLEASE FOLLOW THE RULE FOR YOUR OWN SAFETY.
1. Only 16 years and above is permitted to ride the ATV.
2. Participants will be required to sign the Waver Form before riding.
3. Strictly no passengers on ATV. However, in unavoidable circumstances (case-to-case basis), rider will ride under the supervision of the experienced guides/instructors.
4. Never ride the ATV under the influence of alcohols, drugs or other medication that impairs judgment or coordinations. Doing so can result in serious injury.
5. No excessive speeds while riding.
6. Always wear the helmets provided by the ATV management during rides.
7. Respect other riders and the environment. You will be held responsible for damages to the ATV due to the rider's carelessness and recklessness or violation of the rules and regulations.
8. No riding in unapproved areas – designated areas and trails provided by the Marshal only.
9. The Marshall reserve the right to withdraw, stop or refuse any rider who do not comply to the rules and regulations. In such circumstances, there shall be no refund for the hiring charges.
WHAT TO WEAR
T-shirts or any comfortable and breathable 

clothing.Long

 pants, Jeans or Bermuda.Sports shoes or Sneakers. Slippers or Beach Thong is not appropriate. No high heels for women. (We provides shoes for rent)
What To Bring ( Optional )
If you would like to take bath in the river, a new set of clothing and towel is highly recommended. Toilets with shower facilities available at the base. Bring your own Insect repellent, sun block, camera, light snack
* Ride package inclusive of ATV vehicle, safety briefing, training, experienced guide.
LET US ASSIST YOUR ADRENALINE
BOOK YOUR ATV RIDE SESSION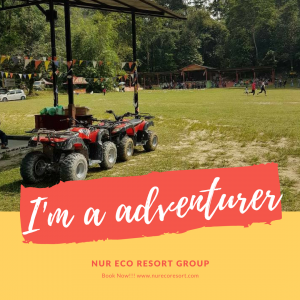 Contact us
Nur Adventure Services Sdn Bhd.
Facebook : ATV Nur Eco Resort 
Email : nurecoresort@
gmail.com